There are unfortunately very few opportunities for Disability Studies students to study abroad. In some ways, this is fortunate because I cannot begin to afford to travel and yet it is still unfortunate.
Disability Studies exists to study and question how disabled people fit into the world. Assuming that is, that you're ok with being limited to one university campus or even as in the case of my university one classroom. That's right all disability studies classes—except for the classes of one professor who refuses to use the room as a matter of principle—are taught in a single room that has been deemed "accessible" (this is easily debatable).
It is difficult to engage with disability studies even in the broader confines of one of the biggest universities in Canada much less meet with like-minded people around the world.
This is one of the reasons that social media is so important because it is one of the few ways that disability scholars and activists have to network and keep tabs on what people are doing around the world.
That is why opportunities like the International Disability Law Summer School are so important. It is a genuine opportunity to learn things that may not be available in individual Disability Studies programs. It is also a rare opportunity to network with people in the field in person.
I would very much like to attend this year's school but I can't afford it. I have come to the conservative estimate that the trip will cost $5500 and I have set up a GoFundMe to try and raise the money for me to go.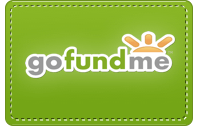 I hope that you will be able to help me out. If everyone who visits my blog this month donated a dollar, I would have to raise my goal amount to account for the GoFundMe per donation fees. So hopefully fewer people will be more generous. Please donate if you can.
If I don't make my goal, funds will be redirected to pay for my current studies here in Canada as will any funds I may receive that exceed the amount I need to attend the summer school.
Thank you in advance for your support.
As always you can also support my continued blogging by becoming a patron on Patreon
Or make a one time donation through Ko-fi
You can also support me by sharing this post using the sharing buttons below.